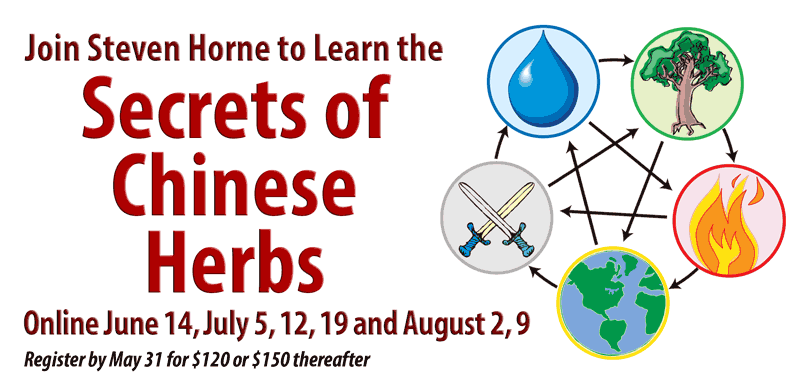 Register for The Secrets of Chinese Herbs today for $150.
Steven Horne has been teaching about Chinese herbs and NSP's Chinese herbal products for over 30 years. He has found the Chinese philosophy to be extremely valuable in understanding how to help people recover their health. The class will demystify the basic principles of TCM such as Qi, Yin and Yang and the Chinese five elements and show you how to rapidly recognize when a person one (or more) of NSP's powerful TCM formulas. Specifically, you'll learn:
The basic principles of Chinese diagnosis and therapy, including understanding qi (chi), yin and yang, the five elements, the three humors, the five tastes, organ networks (meridians) and pernicious influences (called "evils" in TCM)
Basic tongue and pulse assessment to determine determine which TCM formulas a person needs
The traditional uses of over 20 herbs used in TCM with more detailed discussion of the TCM herbs availalbe in NSP as singles (astragalus, cordyceps, dong quai, eleuthero, ginseng, ho shou wu and morinda)
Detailed information about NSP's 15 traditional Chinese herbal formulas, as well as Western herbal formulas that can be used in the TCM model of health
NSP's Chinese herbal products are a completely unique product line. There is nothing else like it, especially when you consider NSP's incredible quality control. Don't miss this great opportunity to learn how to help others with these amazing products.
Live webinars will be held on June 14, July 5, 12, 19 and August 2, 9 at 8:00 Eastern, 7:00 Central, 6:00 Mountain and 5:00 Pacific time. All webinars will be recorded and recordings, handouts and other materials will be made available to students online.
This six session online class includes the Secrets of Chinese Herbs manual co-authored by Steven Horne and KP Khalsa.
You can also call 1-800-416-2887 to register
---
This comprehensive, full-color guide provides detailed, easy-to-follow instructions for making and using approximately 250 herbal medicines at home is now available. Steven Horne and Thomas Easley tell you everything you need to know about harvesting, preparing, and administering herbs in many different forms, including fresh, bulk dried herbs, capsules, extracts in water, alcohol, glycerin, vinegar and oil, and even preparations like essential oils and flower essences. The book also covers topical applications of herbs as salves, lotions, poultices, tooth powders, ear drops, and more, and includes an extensive chapter on herbal hydrotherapy.
One of the unique features of this book is that it explains the principles of herbal formulation and provides instructions on the best ways to prepare hundreds of single herbs. More comprehensive than any other guide, thoroughly researched, beautifully illustrated, and presented with ease of use in mind, this book will take its place as the premier reference for those who want to produce all the herbal remedies they need, and to save money in the process.
---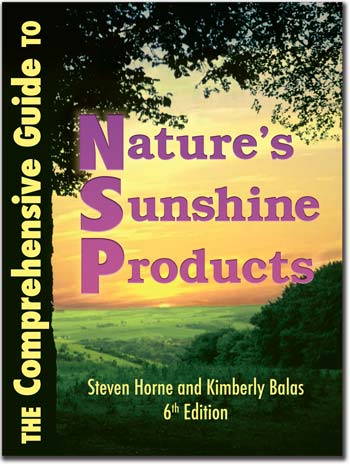 We've made the 6th Edition of the Comprehensive Guide to NSP even better by updating it with the latest products from Nature's Sunshine Products including Berberine IR, Cardiox LDL and all the new essential oil blends.
This book is a must-have for anyone who uses Nature's Sunshine Products. It covers NSP's entire product line, linking them to hundreds of ailments and conditions, natural therapies, body systems and properties.
With 462 pages the Comprehensive Guide to NSP is a big book that is easy to use. It includes a detailed table of contents and section tabs to make it quick to find every product, condition, therapy and property.
Order today and have this incredible reference at your finger tips
Look Inside the Sixth Edition of the Comprehensive Guide to Nature's Sunshine Products
Click on any of the images below to view a sample of the pages from the newest edition of the Comprehensive Guide to Nature's Sunshine Products to see what's inside.
This online course will teach you the core ideas you need to really understand natural healing. It includes video lessons, handouts, quizzes and counts towards the Family Herbalist Certification program and The Certified Herbal Consultant program. Discover all the amazing things you can learn and register today for just $97.00.
---