Steven's New Emotional Healing Charts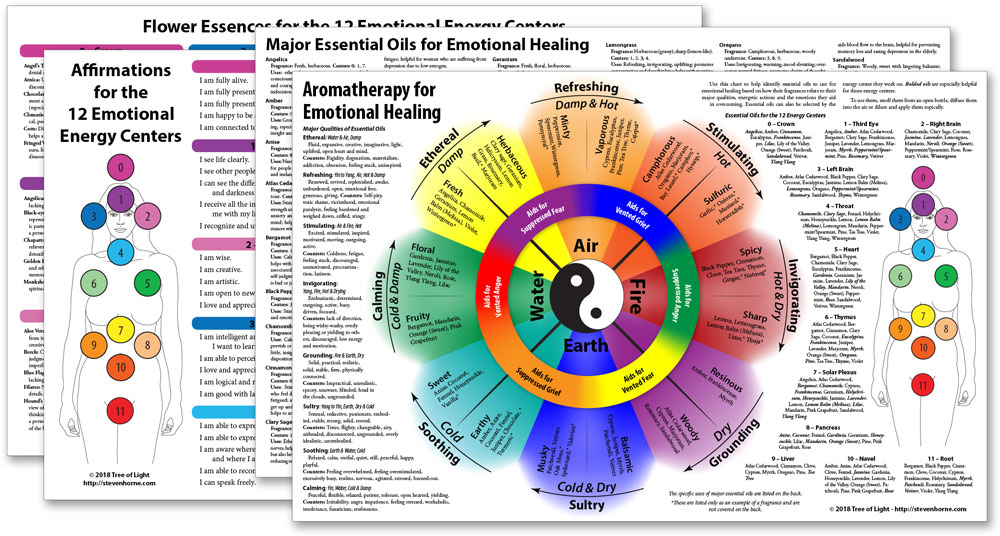 For many years, Steven has used three different techniques together to help people heal emotionally as well as physically. He has now created two new charts to help make it easier for you to use these techniques to help your clients heal emotionally as well as physically.
The first chart, Aromatherapy for Emotional Healing, focuses on the outstanding properties of essential oils to help shift emotional states. In this chart Steven covers the eight vital qualities of essentials and the problems they overcome and mapped out how they relate to 16 different fragrance qualities and their energetic actions based on the Oriental model of yin and yang, the Western four element model (air, water, fire and earth). It also lists which essential oils will help with the 12 emotional energy centers.
The back of the chart covers the fragrances, qualities and basic effects on mind and mood of 46 major essential oils. These include all of the single essential oils from NSP and many of the essential oils in NSP's blends.
The second chart, Essential Tools for Emotional Healing, focuses on the other two tools for emotional healing that Steven has found to be effective, flower essences and question affirmations. One side of the chart will help you use question affirmations to clear issues from each of the twelve emotional energy centers. The other side covers over 100 different flower essences that can be used to open up those energy centers with inpidual indications for each flower essence.
Both of the charts are laminated and in color, so they will look great and be durable. They are large format (11x17 inches) great for display or using for consultations.
These charts are available for preorder now and will start shipping after Labor Day. They are available inpidually for $15 each ($12 for Sunshine Sharing Members). If you preorder you can get them both for $25 ($22.5 for Members).
Preorder these charts today at treelite.com or call 1-800-416-2887 and start using them to help teach your clients and help them heal on the emotional as well as the physical level.
---
Start Mastering the Fundamentals of Natural Healing
Register for The Fundamentals of Natural Healing today for $250
When you know what you are doing, you can get amazing results with natural remedies, but first, you have to shift away from the disease-treatment mindset of modern medicine and shift your thinking to a health-building model. This in-depth course lays out all the guiding principles Steven has used in his 35 years of natural healing. It is the foundation that helps you understand how the body gets damaged, how it heals and what you can do to support the healing process.
We've completely overhauled the Fundamentals course for 2018 with shorter, more focused lessons, which can be completed in less than one hour. This makes mastering the material easier than ever. In addition, we've added a completely new module to the existing three modules in the original course to make this course even more useful.
The four modules cover Healing Injuries and Relieving Pain, Acute Diseases, Chronic and Degenerative Disease and Mind and Emotions. The class will be taught live and recorded for you to watch later and starts January 18 and goes through November 29. Taking it also counts towards the Family Herbalist and Certified Herbal Consultant certification programs.
Click here to learn more about this class.
You can also call 1-800-416-2887 to register
We just want to take a moment to say thank you to everyone who has ordered in the last couple weeks. If you have a pending order please make sure to checkout and finish your order. It is hard to say goodbye but the following NSP-specific products have been discontinued:
12 Powerful NSP Products, Cholesterol & Your Health, Coming Clean, Flower Essence Assessment Tablet, Flower Power Brochures, Healing with Chinese Herbs, Heal it Yourself, Healing with Flowers, Nature's Choices, Nature's Fresh Booklet, Stop Treating Disease, Start Building Health, The Comprehensive Guide to NSP, The Blood Type, pH & Nutrition Charts, The Simple Secrets of Pain Relief and Tablets and all back issues of Sunshine Sharing.
If you haven't already make sure to sign up for Steven Horne's newsletter so you'll know when new articles and videos are posted as well as when we release new tools and classes.